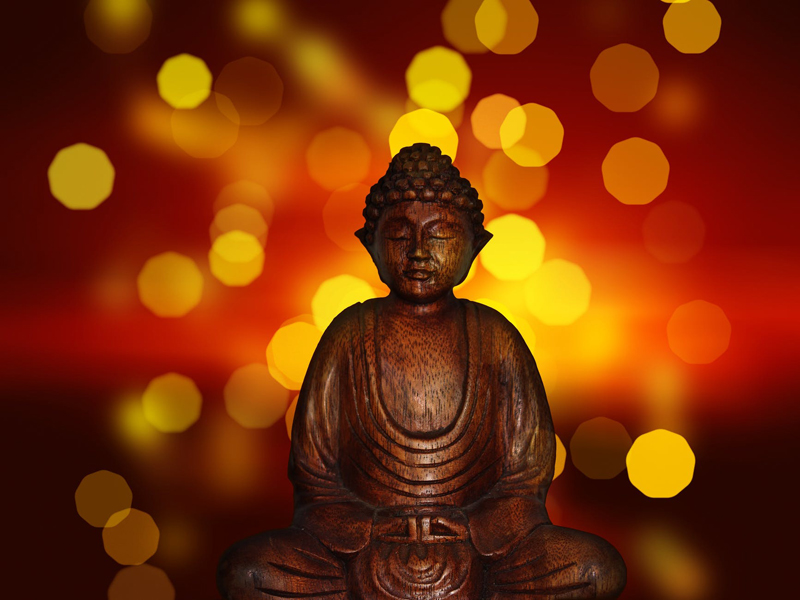 Women Buddhist authors and their books, teachers, and historical biographies, as well as some resources for women Buddhists.
Aung San Suu Kyi and Burmese Buddhism

Burmese pro-democracy leader Aung San Suu Kyi has been in the news lately, due to her trial for accepting a visitor while under house arrest. What is less often discussed is the fact that she is Buddhist, and that Buddhism has played a prominent role in the development of her political philosophy.
Buddhism for Mothers, Book Review

This book offers great insight into mindful parenting for anyone, and shows how Buddhist philosophies and practices can be applied to our daily lives.
Dakinis in Tibetan Buddhism

Dakinis, or 'sky-dancers' are female representations of enlightenment and enlightened energy, and play a big role in Tibetan Buddhist writings and teachings. Learn more about them in this article, as well as viewing images of several.
Embodying Forms of Feminine Power

Tibetan Buddhism has many feminine deities that serve as archteypes for the feminine energies that exist in us all. Learn how they are used in meditation, as well as more about Samantabhadri, the basis of all the female deities.
Interview with Sylvia Boorstein

Read what Sylvia Boorstein, American Buddhist teacher and author, co-founder of the Spirit Rock Meditation Center, has to say about happiness, caring, fear, writing, mothering, Judaism, and more!
Interview with Zen Priest and Author Karen Miller

Zen priest and author of Momma Zen, Karen Maezen Miller, answers questions on writing, Zen practice, teachers, women in Buddhism, marriage, and more. Wisdom we can all relate to and apply.
Jomo Memo - 13th Century Tibetan 'Terton'

In celebration of Women's History Month, learn about one of the few 'tertons', or discoverers of hidden knowledge, within Tibetan Buddhist history - Jomo Memo.
Machig Labdron, Mother of Chod

Machig Labdron was an eleventh-century woman Tibetan Buddhist teacher and lineage holder who helped establish the Tibetan Chod Tantric practice for transmuting inner demons.
Mugai Nyodai, First Woman to Head a Zen Order

The life of Mugai Nyodai, medieval Zen Buddhist nun credited with becoming the first woman to head a Zen order, and author of a famous Zen awakening poem.
Mugai Nyodai, First Woman to Head a Zen Order

The life of Mugai Nyodai, medieval Zen Buddhist nun credited with becoming the first woman to head a Zen order, and author of a famous Zen awakening poem.
Pajapati - Stepmom to Buddha and First Nun

Maha Pajapati Gotami was the Buddha´s foster mother, raising him from infancy, and as an adult persuaded him to allow an order of Buddhist nuns, one of the first women religious orders in the world.
Review of The Female Buddha

This lovely, contemplative photography and quotation book features images of Kuan Yin, the 'female buddha', taken throughout East Asia, along with quotes from women teachers and writers from the Buddha's time to our own.
Sukhasiddhi, Tibetan Buddhist Woman Lineage Holder

This article summarizes the legend of Sukhasiddhi, considered a female founder and dakini within the Tibetan Buddhist Kagyu lineage.
Taking the Leap, by Pema Chodron

Buddhist nun Pema Chodron´s latest book offers insight into how we can work with the triggers of our daily lives, and transmute them into opportunities for spiritual growth and awakening. Buddhists and non-Buddhists will benefit from this gem of a book.
Tara - Female Buddha of Compassion

Tara is a popular female deity within both Buddhist and Hindu traditions. She is sometimes referred to as the 'first feminist' Buddha, due to her vow to work in the body of a woman to benefit all sentient beings.
The Therigatha - First Buddhist Writings by Women

The Therigatha, or 'verses of the elder nuns' is a collection of poems and songs written by the first Buddhist nuns, and is among the earliest religious writings by women in the world. Learn more about it in this article.
Tibetan Women's Uprising Day

This week marks the anniversary of the Tibetan uprising against Chinese occupation, which led to the Dalai Lama's escape. March 12th is a special day set aside by the Tibetan Women's Association to honor the Tibetan women that participated in this historic event.
Women of Wisom, Lama Tsultrim Allione

Lama Tsultrim Allione is one of the leading women Buddhist teachers in the West today, and this book includes both her own compelling personal story, as well as the sacred biographies of six historical Tibetan Buddhist yoginis.
Yeshe Tsogyal - Tibetan Woman Buddhist Master

Yeshe Tsogyal was a Tibetan princess who through her relationship with Padmasambhava, the Indian master who brought Buddhism to Tibet, became an enlightened Buddhist teacher and the most revered female figure in Tibetan Buddhism.
Editor's Picks Articles
Top Ten Articles
Previous Features
Site Map
Follow @mommymystic
Tweet
Content copyright © 2018 by . All rights reserved.
This content was written by . If you wish to use this content in any manner, you need written permission.
Contact Lisa Erickson for details.